WANTED: RECEPTIONIST / BILLING CLERK
General Requirements: The Kane County Water Conservancy District (KCWCD) is accepting resumes from applicants interested in working for KCWCD as a full-time receptionist and billing/office clerk. The work involves interfacing with the public, executive administrative support, handling water billings, maintaining our computerized customer database, records management, and other office related duties as assigned. Compensation will be commensurate with qualifications and includes a strong benefit package (insurance/retirement/vacation). Applicants will need to submit a resume with at least two (2) letters of recommendation to the District Office: 725 E. Kaneplex Drive Kanab Utah 84741 or email the information to kcwcd@kanab.net by March 24th 2017.
---
The Kane County Water Conservancy District (KCWCD) has been actively engaged in water conservation and development since the year 1997. As of 2012, the District has constructed nearly $50 Million in water system infrastructure and owns over 40,000 acre feet of water rights. The District has constructed over 100 miles of distribution pipeline. KCWCD was organized in 1992 as a political subdivision of the State of Utah under the Water Conservancy Act. A seven member board appointed by the Kane County Commission provides oversight. The District was organized for the purpose of conserving and developing water for multiple uses including: domestic, municipal, agricultural, commercial, industrial, wildlife and stock watering.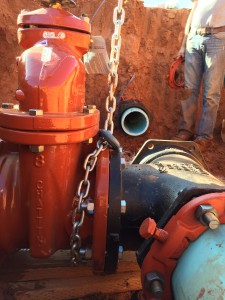 KCWCD's objective is to plan for, finance, design and construct water distribution systems, including pipelines, wells, reservoirs and other improvements as necessary to utilize & conserve water resources within Kane County for the benefit of its citizens. The District is on solid financial ground with an asset equity position of nearly 60%. The District has one of the lowest tax rates for the lower basin counties and has been able to leverage its funds to obtain in excess of $20 Million dollars in grants. District activities have significantly contributed to the tax base of Kane County. The Utah Division of Drinking Water's regional planning goal is to assist public water systems comply with the safe Drinking Water Act. The District has succeeded in helping more than twenty culinary systems become state and EPA compliant. KCWCD and Kanab City have worked together to build an interconnect pipeline to provide emergency water to both entities. The District operates a hydro-electric facility near Orderville and a 4,200 acre-foot reservoir south of Kanab. The reservoir provides a secondary water source for farmers, ranchers, municipalities and residential users as well as supplying city golf course, parks and other many recreational opportunities. KCWCD is currently delivering safe/reliable drinking water to nearly 3,000 residents in Kane County.